History
Cobra, Viper, Boa, and of course, the Rattler

In the late 1980's Dave's brother, Mike, and some of his friends were into talking on C.B. radios. All of their call signs were snake names and Mike was "The Rattler".
Rattler's Rock BBS
As the novelty of C.B. radios wore off the next move was to computers. This is where Mike and one of his friends started Rattler's Rock BBS (bulletin board service).
Rattler's Rock On-Line Service
Next was a go at the online world and the new WWW (World Wide Web)
Rattler's Rock Racing
is born
1998 Flight school is finished for Dave and Pat. Discussion begins on how to get into racing and what bikes and classes they are going to run. It is decided that we would use the Rattler's Rock name and Dave will start the 1999 season on his YSR and Pat will run in the AFM on his GSXR.

At last racing begins. The year is 1999 and Dave gets his YSR50 prepped for racing. Pat's on his GSXR and they made a few races during the year. Not much to show for it but, hey, they were just getting started.
Year number two, 2000, saw Dave working on his racing on the YSR track at Prairie City SVRA. Pat just couldn't sit on the sidelines watching the small bikes and decided he must have a YSR too.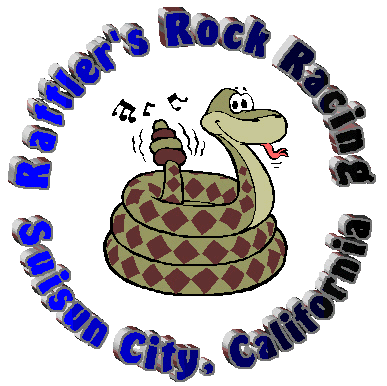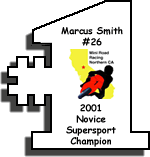 In 2001 it was Marcus' turn. He ran his very first year on a YSR to the Novice Supersport Championship! He wasn't finished there though, he also scored 2nd place overall in the Novice Superbike class. Guruniyam took her first shot at racing with borrowed gear and even a borrowed bike, but by the end of the year she was the proud owner of her own YSR.
One of our best years came in 2002. A complete season of YSR racing brought many podium finishes. The year ended with Pat getting 2nd place overall in Novice Superbike, 2nd place overall in Vets Modified, and 3rd place overall in Novice Supersport. Dave earned 2nd place overall in Novice Supersport and 3rd place overall in Novice Superbike. But 2002 was not without a glitch...During the second wave of heat races, for Vets modified, going into turn 1 there was an accident. The result was a broken left clavicle, collarbone to the lay person. The collarbone happened to belong to Pat. Also for 2002, Guruniyam concluded her first year on the track racing YSR's and finished 4th place overall in the Women's class. Dave started his AFM career with racing school and one race on Pat's GSXR.
What happened in 2003? This year it started to get difficult to run the entire season due to military duty but we did our best. Dave finished his race requirements as a novice rider, on his Yamaha R6, in the AFM to earn his white number plates (expert rider). Our YSR racing took a bit of a back seat to the AFM so attendance was limited. Marcus ended up selling his YSR with visions of moving to the AFM.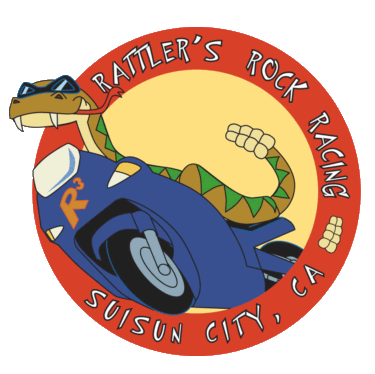 2004, the Air Force was still keeping us busy but we managed to make several AFM races and a track day at Thunderhill. Highlights from the year included Pat with an 8th place finish in AFM Open Twins. Dave had a double win at the last YSR race of the year. Unfortunately the first and last YSR races was all that time permitted. We had a good setup for the annual endurance race but as you will see, it didn't end well. Dave, Pat, and special guest rider, Martin were our riders for the race. Pat ended the year in typical Pat fashion. During the 4 hour endurance race, on the F2, he high sided at the 3 hour mark going though turn 8a. He managed to bounce off his head and come to a stop in the dirt. He broke two vertebra in his neck but luckily he made a full recovery!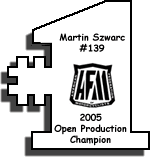 2005 was another great year for the team. This year saw the addition of 3 new members, Martin, Bob, and Brandon. And with the addition of these guys came some great results, the best being Martin's Open Production Championship. Bob came out of the season with a 6th place finish overall in the Novice ranks. We were not able to run any of the mini-bike races this year. Marcus was able to run one AFM race this season but retiring from the team at the end of the year.
Excitement continued in 2006 with the teams best result coming once again from Martin Szwarc with a 2nd overall in the Open Production class. Added to the team, Mike, makes his big return to racing. Our perennial crasher, Pat, showed us his style again with a big get off early in the season, thus having to sit out several rounds. Dave gave a go at the liter class during the last round and joined the top 10 club. And of course the biggest news of 2006…Dave and Guruniyam got married!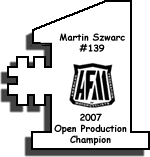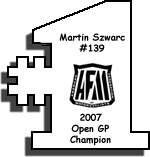 Two more championships, a 2nd, 3rd, and a 4th, and a number 5 plate! Wow what a season for 2007! Martin came away with championships in Open Production and Open GP. In Open Superbike he came in with 2nd overall. He also walked away with the number 5 plate in Formula Pacific. Wil joined the team for the 2007 season and gets a 3rd overall in 650 Twins. Joining the team late in the season was Brian brining with him a 4th overall in Formula IV. Dave made a mid season switch to a GSXR1000 and with that move he came up with 15th overall in Open Production with only 5 races on in the class. Pat had another sporadic season but luckily it wasn't due to crashing. Bob made a couple rounds and Mike, unfortunately, wasn't able to ride in 2007.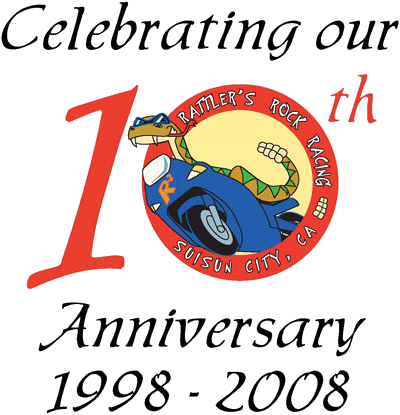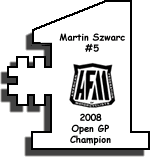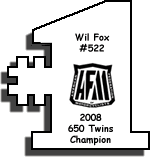 2008 brings us to our 10th anniversary of motorcycle road racing. This year we added another member of the team to the championship ranks. Wil Fox claimed the 650 Twins crown by only one point and took 2nd overall in Formula IV. Meanwhile Martin Swarc won the Open GP championship for the second year in a row. Wil and Martin were also awarded top ten plates for the 2009 season. Number 8 for Wil and number 5 for Martin. Kirk Korenko joined the team for his first full season with a couple of fourth place finishes. Pat joined the Formula 40 club this year and posted a 10th place finish in his first race, coming all the way from the back of the pack. Dave had a couple of crashes that limited his racing during the 2008 season. Brian also sat out the last couple of rounds but posted numerous podium finishes earlier in the season.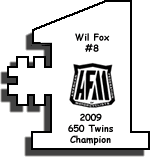 It's a wrap on the 2009 season. We would especially like to thank all of our sponsors for the outstanding support during the season. In the end we walk away with the 650 Twins Championship for the second year in a row by Wil Fox. Other highlights are 2nd place finishes overall in Formula IV (Wil Fox), Open Superbike, Open GP, and Open Production (all by Martin Szwarc). Thanks to all that came out for the final race. I think we put on a pretty good show for you. Wil took the 650 Twins Championship by continuing on with a severe mechanical issue with his bike. All he had to do is finish the race and he accomplished that task while fumbling with some wiring during the entire race! Pat scored a 6th place finish in Formula 40 earning him an 8th place overall in that championship. Kirk had his day cut short with a crash in Formula Pacific but scored a 10th in Open GP. Martin locked down his 2nd's overall in multiple classes with strong finishes all day. Finally, Dave saw a return to the track after almost a year off the bike.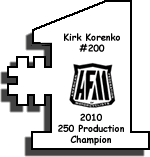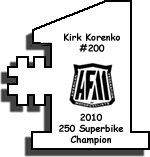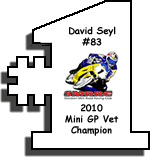 2010 brought 3 more championships to Rattler's Rock Racing. Kirk brought home two championships with 250 Production and 250 Superbike in the AFM. Meanwhile Dave got his first championship on the YSR50 with the Mini GP Vet title in SMMRC. Martin regained the number 5 plate in Formula Pacific. He also took 2nd overall in the AFM Open GP and Open Superbike classes. In the California State Championship series, Martin earned 2nd in the Formula 1 class. Pat came off his best season to date with 2nd in the California State Championship Formula 40 Heavyweight class and 5th in the overall championship. 5 seemed to be his number with 5th over all also coming in the AFM Formula 40 Heavyweight and Open Production classes.